Chief Constable Stuart Hyde could be 'asked to leave'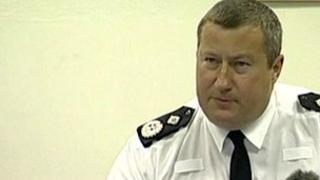 Cumbria's temporary Chief Constable could be asked to resign or retire by the Police and Crime Commissioner.
Stuart Hyde has been suspended since September after an investigation started into alleged misconduct.
Cumbria PCC Richard Rhodes said Mr Hyde had been re-suspended and he was proposing to start a process leading to possible retirement or resignation.
Mr Hyde said the investigation "found no evidence of misconduct, gross misconduct or criminality".
In a statement he said: "What I am surprised and shocked about is that the PCC has not accepted their conclusion and has chosen to substitute his own."
He said he was "very surprised" that Mr Rhodes was "attempting to remove" him from office.
Credit cards
In October, Mr Hyde was cleared of serious misconduct by the Independent Police Complaints Commission (IPCC) but an investigation by South Wales Police continued.
The investigating officer's report said he did not find evidence of misconduct but included 36 recommendations, 12 of which related directly to Mr Hyde.
Mr Rhodes said the report showed Mr Hyde had breached force credit card guidelines on 50% of his card uses.
He said he had not provided proper receipts, had "on occasion" bought personal items which he then reimbursed and had used the card within the force area, which is not permitted.
Mr Hyde said he had "always promptly reimbursed every penny" if he used the card for non-policing purposes.
He was also accused of not recording some gifts and hospitality and to have taken "numerous" overseas trips, although he said all were "authorised and for a proper policing purpose".
'No jurisdiction'
In a statement, PCC Mr Rhodes said Mr Hyde had showed "poor judgement" by using air miles accrued on police business to pay for a personal trip.
He also said some of Mr Hyde's comments on Twitter could be "considered unprofessional or offensive".
Mr Hyde was Cumbria Constabulary's Deputy Chief Constable when he was made temporary Chief Constable in January 2012.
That appointment ends on 30 August, at which point he reverts to his original post.
From that point the PCC has no jurisdiction over him as he would report to the Chief Constable.
Mr Hyde said he disagreed with the PCC's decision to begin the process of seeking his early retirement or resignation when "responsibility will have to pass to another to manage the outcome".
Merseyside Police Deputy Chief Constable Bernard Lawson is acting Chief Constable in Mr Hyde's absence.
The inquiry has cost more than £400,000 including South Wales Police's investigation, legal advice, Mr Hyde's salary and that of Mr Lawson.