Windermere speed limit enforced by radar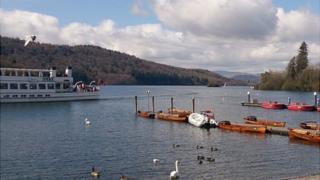 National park rangers are using new radar equipment to enforce the 10mph speed limit on England's largest natural lake.
The Lake District National Park Authority introduced the regulation on Windermere eight years ago.
Since then there has been a shift away from fast watersports towards sailing, paddle craft and open-water swimming.
The radar will be used mainly to advise boat owners they are going too fast, rather than for prosecution purposes.
Ranger Andy Dell said boat speedometers were often unreliable.
"This will allow us to accurately record the speed of any craft, and help us advise those who may not realise they are exceeding the limit," he said.
"The vast majority of users operate within the by-laws and when stopped, advice is usually heeded.
"This is all about enjoyment of some of the best scenery in the country and the safe navigation of one of our best loved lakes."