Gulls on Furness General Hospital roof annoy patients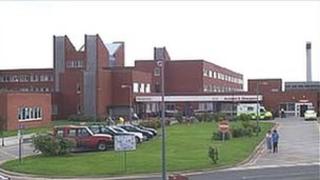 The number of seagulls nesting on a hospital roof has doubled, keeping patients awake with their shrieking, a Cumbria MP has said.
John Woodcock for Barrow said patients at Furness General Hospital had complained to him about noisy gulls.
The hospital said the number of birds at the site had doubled since 2006 and it employed a firm to remove nests.
Mr Woodcock is holding a seagull summit to discuss the problem at Barrow town hall on 29 August at 18:00 BST.
Representatives from BAE Systems, local councils and Cumbria Wildlife Trust will attend the meeting to try and come up with a solution to cull gull numbers.
Mr Woodcock said: "I have been contacted by many people who have been driven mad by the gulls.
"It is important that we respect bird life, but some areas of Barrow-and-Furness have effectively become urban sanctuaries for the gulls and they are having a negative effect on people's lives."
'Access to nests'
Jackie Daniel, chief executive of University Hospitals of Morecambe Bay Foundation Trust, said access to the roof was being improved so contractors could get up there and remove more nests.
"Seagulls have always been in evidence on the roof since it was built, but in 2006 they appeared in far greater numbers and various actions have been trialled in an attempt to deter them, "Ms Daniel said.
"Nest removal has proven to be the most effective and, during the nesting season, nests and eggs are removed every two weeks.
"In time for the next nesting season, we are currently looking at these 'hard to access' areas on the roof and installing safety measures that will allow contractors increased access to nests."