Cumbria's smallest music venue to be?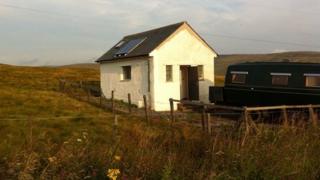 Music promoter Bill Lloyd is hoping to open what could be Cumbria's smallest music venue.
The white pebble dash building with a slate roof near the old A6 in Shap could house intimate gigs pulling in sell-out crowds of about 20 people.
Bought at an auction, the venue is a far cry from Wembley Stadium, standing at 18 feet by 12 feet, with the "concert hall" located on the first floor.
Although remote, lying near the 1,400 feet summit of Shap Fell, the wannabe-venue is on the route between Lands End to John O'Groats and has already intrigued passers-by.
'No chatting'
Mr Lloyd, from Kendal, said: "There was a guy on his unicycle going from Land's End to John O' Groats and we had a jam session going on at the time.
"He came in, had a great night, he went away in the morning with £100 in his pocket for his charity."
Currently being used as a camping barn, it previously housed equipment to boost telephone signals but was later made redundant as technology advanced.
"We're also using it as music practice rooms," added Mr Lloyd.
"If you want to learn the bagpipes, where better? Or if there are any young bands looking to hang out for a weekend...
"Musicians love it because in an audience this size, everyone's listening - you don't have people at the back chatting or ordering a round at the bar."
Many of the country's smallest music venues are said to be part of the toilet circuit - a network of intimate venues given its name because some are so small bands have to change in the loos.
However, this venue has a chemical based portable toilet, which could challenge the creativity of any artist wanting to make a grand entrance.
Lacking running water and mains electricity, it does boast a solar panel that provides electricity.
Mr Lloyd said: "It's fairly basic, but there's everything you need here, so I thought we'd just try it.
"We've done a lot of conversion work, we've got smoke detectors, two doors and all that and if we want to turn it into a music venue, we'll have to apply for a entertainment licence, but that's fairly straight forward.
"On the night of the full moon, we meet and have a little jam session with local musicians."