Pirelli fined over worker's broken arm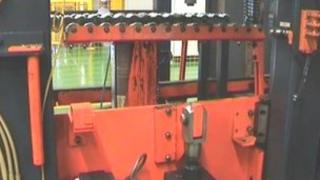 Tyre firm Pirelli has been fined £20,000 after a factory worker's arm was broken in three places when it became trapped in a machine.
The 57-year-old man was working on a poorly maintained tyre testing machine at the Dalston Road plant on 3 January 2012, Carlisle magistrates heard.
Pirelli UK, based in Staffordshire, admitted a health and safety breach.
The Health and Safety Executive said the accident "could have been avoided".
The firm was also ordered to pay costs of £4,330.
Months off work
The court was told the worker was trying to fix a fault in the machine which had just been switched back on after the Christmas shutdown.
He had removed a guard to repair the recurring fault when his arm became trapped.
The court was told the fault had occurred several times after Christmas shutdowns and Pirelli should have carried out a risk assessment for the maintenance work.
The injured worker had to take four months off work and still has difficulty moving his arm, the court heard.
Health and Safety Executive (HSE) Insp Michael Griffiths said: "The fault with the machine had occurred before, following previous Christmas breaks, but the company did not have a specific risk assessment in place to make sure it could be fixed safely.
"This incident could have been avoided if Pirelli had done more to make sure that its employees were following safe working practices."