Great Gully walkers trapped for eight hours are rescued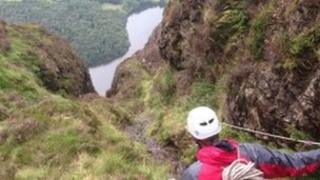 Volunteers spent eight hours rescuing two walkers who had become trapped in a ravine in Cumbria.
The men were in Great Gully, on the Wasdale Screes, on Tuesday when one fell 27ft (8m) and broke his wrist.
A team of 24 rescuers managed to get to the men and said they were in one of the most "inaccessible" places in the Lake District.
They were eventually hauled up the gully using ropes, rescuers said.
Two mountain rescue teams from Wasdale and Duddon and Furness, and a crew from the North West Air Ambulance, brought the men to safety.
They had got into difficulty on the screes - slopes of loose rock - around Wastwater when they mistook the gully for a suitable route, rescuers said.
'Roped to safety'
A Wasdale MRT spokesman said: "The walkers were in one of the most inaccessible and difficult places to operate in the Wasdale area.
"In the end the uninjured casualty was roped to safety.
"The injured casualty had been lucky and despite a reasonable fall only had minor injuries and was winched up the crag on ropes."
It was the 11th rescue that the Wasdale MRT had been called out to in 12 days.