Edinburgh Woollen Mill boss Philip Day fails to cut legal bill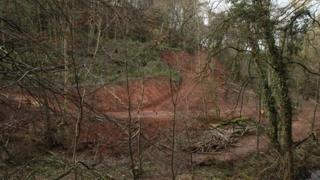 The clothing tycoon ordered to pay almost £1m for damage caused to ancient woodland in Cumbria has failed in an attempt to have his legal bill reduced.
Philip Day, the owner of the Edinburgh Woollen Mill chain, was fined £450,000 and ordered to pay costs of about £457,000 after admitting two charges brought by Natural England.
Day argued he should not be liable for costs from a third charge.
But Judge Peter Hughes QC said his claim was "wholly without merit".
The general public would regard it as "an affront to justice" if it succeeded, Judge Hughes added.
Restoration programme
Trees were felled and land excavated in order to build an access track for shooting in Gelt Woods in 2010, prosecutors said.
Day, who lives at Edmond Castle, near Hayton, Brampton, claimed the prosecution costs should be reduced to £304,878 as the third charge - of constructing a pond within the Site of Specific Scientific Interest (SSSI) - was not proceeded with.
It was left on file after the two other guilty pleas were made.
Natural England said the woodland has become an important habitat for flora, fauna, insects and birds on the slopes around the banks of the River Gelt where the water has cut a rocky gorge through the sandstone.
Day, who the judge accepted did not set out to deliberately damage the SSSI, has since completed a programme of tree restoration.