Carlisle Castle made from custard creams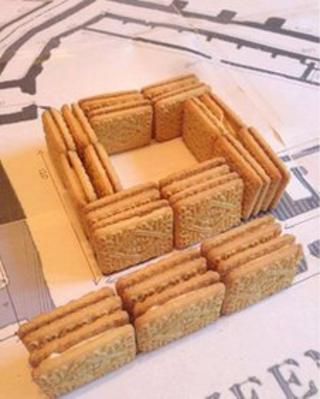 A model of Carlisle Castle is being made out of custard creams.
The construction is part of the city's summer pageant and requires dozens of volunteers and about 5,000 biscuits.
Castle site manager Ann Fiddler-Robbins said it was "such a brilliant off-the-wall idea" but could not say whether the result would eventually be eaten.
Three cake companies are creating the biscuit castle in front of visitors outside the Town Hall in the city centre.
Sweet Dreams owner Lisa Wheatcroft agreed to help after a Facebook appeal from English Heritage, which runs the castle.
'So much effort'
"Both the castle and custard creams are an important part of Carlisle's heritage so I wanted to bring the two together," she said.
"It is hard work; lots and lots of planning ahead of the day.
"Then you can't be guaranteed it goes smoothly so you have to think on your feet."
The finished structure is expected to be about 1.2m (4ft) square.
Ms Fiddler-Robbins said: "They are going to begin with a sponge base, building up the grounds and then, using a plan that they've already mapped out, they are then going to make the walls and the keep.
"They've even gone to so much effort that they've got tiny models of horses, a town crier, canons and even a Mary Queen of Scots figure."
The team is also making a replica of the Town Hall out of cake.
Carlisle Pageant runs until 26 August and it is expected the finished sweet structures will be unveiled on Wednesday.