Stone skimming on Windermere despite the rain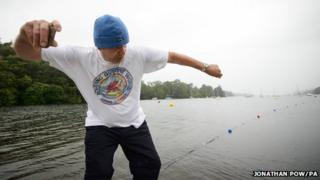 Hundreds of stones have been skimmed across a Cumbrian lake at the All England Stone Skimming Championships.
About 130 men, women and children put up with torrential rain to attempt the longest distances.
The contest on Windermere in the Lake District is run by South Cumbria Rivers Trust to raise funds for conservation.
Michelle Jordan, from the National Trust, which manages the site, said the event was "a triumph of human enthusiasm over bad weather".
Competitors attempted the longest throw, within set lanes and with a minimum of three bounces on the water before sinking.
Marital win
The rules stipulate the stones must be sourced from the area and no more than three inches wide.
Entrants chose their "weapon" from a collection gathered by the organisers.
A similar rule caused a row in a Shropshire competition in 2011 when World and Welsh Open Champion Ron Long said the officially provided stones were too rough and unsuitable for throwing.
Husband and wife Kevin and Amanda Waltham from Newcastle were crowned champions in the adult section.
Mr Waltham's skim reached 77m (250ft) and Mrs Waltham shared joint top in the women's section with Natalie Chappals with a skim of 17m (55ft).
Ron Long came second in the adult men's with a throw of 75m (245ft).
Charmin Menzies won the 11-16 section with a skim of 25m (80ft) and a sizable throw of 41m (135ft) gave George Low a win in the under 11 section.