Lotto winner Stephen Birbeck 'touched lucky scarab charm'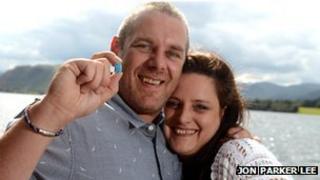 A man who scooped almost £370,000 on the Lottery has put his win down to his lucky beetle charm.
Stephen Birbeck said he had only found the Egyptian scarab in a box two days before putting on his lucky dip ticket.
The 43-year-old double glazing salesman from Penrith said he held the beetle, which was given to him on holiday, when he put his numbers on.
He now plans to buy wife Tracy a luxury car, pay off his mortgage and return to Egypt to get more scarabs.
Mr Birbeck said he almost forgot to play on Saturday, 10 August, and only bought his ticket from Townhead Garage in Penrith two hours before the draw.
'Burst into tears'
"I had been busy with work and almost forgot to put my numbers on", he said.
"A couple of days earlier while looking through some boxes I came across the scarab from my holiday.
"I remember an Egyptian man said 'this will bring you luck, keep it with you'.
"We had forgotten we had it - I held the beetle as I put on my numbers."
The charm is based on the dung beetle and symbolises rebirth.
It represents the god Khepri, who was thought to push the sun disc through the morning sky, much like a scarab beetle pushes its ball of dung.
Mr Birbeck and Tracy, 39, a catering manager, checked their numbers on Saturday evening.
He added: "I saw I had three numbers and shouted to Tracy we had won £10, then it went to four numbers and then five.
"I just shouted 'Tracy, Tracy we have won the Lottery'.
"I thought we would probably have won a few thousand pounds.
"I asked Tracy to double check and she burst into tears and I don't think she has stopped crying since."