Five crumbling Cumbria churches share in £210,000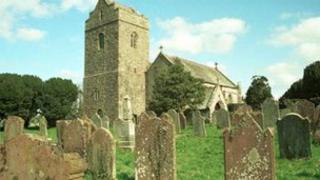 Five Cumbrian churches in need of repair have received more than £210,000 to restore them to their former glory.
One of the county's old parish churches - St Bridget's, Brigham, near Cockermouth, received £48,000 of Lottery money to restore its ceilings.
These were designed by William Butterfield and date back to the 1860s.
Other churches to benefit include St Cuthbert's, in Copeland, which got £69,000, and St Mary of Furness Church, in Barrow which got £82,400.
'Community history'
Derek Bainbridge, who is leading the St Bridget's project, said: "This will enable the restoration of this significant heritage for future generations, to involve local people in associated craft activities and the opportunity for a wide audience to learn about our church and community's history."
It is believed St Bridget's was founded as part of an early nunnery. It displays many pre-Norman carved stones in its 14th Century south aisle chantry chapel.
The tower dates from around 1220 and other attractions include stencilled roofs dating back to 1865 and 1875.
Other churches in the county which will undergo repairs include St Leonard's Church, Copeland, which received £11,000 from the Heritage Lottery Fund (HLF).