Walney and Foulney terns: Nesting woes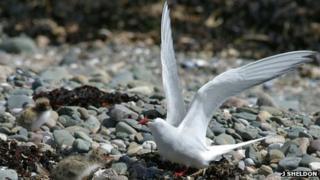 High tides have caused problems for seabirds at two important breeding sites in south Cumbria.
Little terns nesting at the nature reserve at Foulney Island had their nests washed away in the spring.
The 15 pairs then moved to a site at South Walney, but again suffered the same fate.
An officer with the Cumbria Wildlife Trust blamed a mixture of "unhelpful" weather conditions and the changing landscape of the habitat.
The reserves South Walney and Foulney Island are breeding grounds for little, Arctic and common terns.
This year, unlike previous ones, there were no nesting common terns and although Arctic terns did nest, no chicks were fledged.
Over the past 25 years the national tern population has declined by between 35% and 49%, and the seabirds have been given RSPB amber status as birds of conservation concern.
'Gradual improvements'
Pete Jones, from Cumbria Wildlife Trust, said: "It is really worrying that there has been such a drastic reduction in birds fledging chicks from the nature reserves.
"We've noticed that tides have become more and more of an issue."
Terns, which are ground nesting, favour a mixture of sand and small stones.
Foulney is a shingle island, and at one time nesting areas were higher up the shoreline, but changes in beach profile have moved them to within reach of high spring tides.
Mr Jones said: "We've also had weather conditions which don't help, with big winds coming in from the sea, pushing them higher.
"I think that's just bad luck. If there was no wind the high tides wouldn't have been such a problem."
He added that work was about to begin to extend the breeding area for terns away from the ravages of the tide.
"It will be carried out over the next five years, and so there won't be any sudden changes," he said.
"But the gradual improvements should make a real difference to the bird populations in the future."