Bassenthwaite ospreys: First chick flies the nest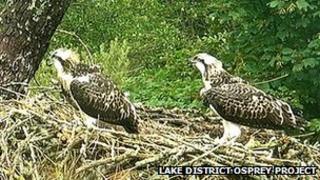 The first of two Lake District osprey chicks has flown the nest.
The young birds of prey hatched at the secure nest site at Bassenthwaite in June to a breeding pair thought to be different to previous residents.
Rangers from the Lake District Osprey Project watching the birds' progress on a webcam saw "a blur of tail feathers" as the young male became airborne.
It was later spotted aloft with both parents. The second chick, a female, is thought to be almost ready to fledge.
Ospreys returned to the Lake District in 2001, after an absence of more than 150 years.
A team of more than 100 volunteers provide a 24-hour guard at the site and crowds of people visit specially-created viewpoints to catch sight of the birds.
Live images from the nest are also being beamed to a big screen at the nearby Whinlatter visitor centre.