Greenodd roadwork delays anger motorists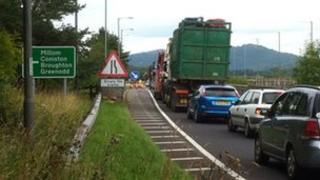 Highways chiefs are coming under pressure to tackle severe delays faced by motorists during work to improve a key junction on a Cumbrian road.
Work is being carried out to replace the T-junction of the A590/A5092 at Greenodd with a roundabout.
Drivers have been delayed for up to an hour and business leaders are calling for better planning and information.
The Highways Agency (HA) said it expected traffic management changes to improve the situation from next week.
The scheme is to make the junction safer and work is expected to be completed next year.
'Taken aback'
Furness Enterprise said it had carried out a survey of firms and found queues this week had stretched up to five miles and it was taking an average of more than an hour to get through the roadworks.
Furness Enterprise executive director Harry Knowles said they had called for a "more intelligent approach".
He said: "I think the Highways Agency will listen. I think they have probably been a bit taken aback at the strength of feeling and if you have sat in a traffic jam for 50 minutes when you don't expect it you are going to have very strong feelings.
"And I very much hope that they will work with people and ensure that traffic disruption is at a minimum so we all get the benefit from this new roundabout."
The HA said the situation should improve next week when a change in the lay-out would cut delays.