Lake District terrapins 'bite legs off ducks'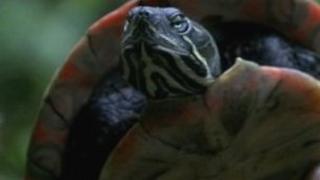 Abandoned pet terrapins in Cumbrian rivers are posing a threat to native wildlife, with some even biting the legs off ducks, a rescue centre said.
Wetheriggs Animal Rescue and Conservation Centre said it had recovered 14 from the rivers Eden and Eamont in the past week.
Tony Bowes, from the centre, said the "tiny and cute" reptiles could grow to the size of a dinner plate.
Once too big for domestic tanks, they were often dumped into the wild.
'Common sense'
Mr Bowes said: "It's become a massive problem.
"They've got a nasty bite on them, they'll eat anything that moves basically.
"It could be fish, it could be any sort of creature, including ducks, they'll even take the legs off ducks.
"One of the bigger ones, a snapper say, could definitely bite the finger off a toddler if it went in for a paddle."
He added that there was a limit to how many terrapins the centre could rescue and called for a "bit more common sense" from the people who bought them.