Trackers fitted to Bassenthwaite osprey chicks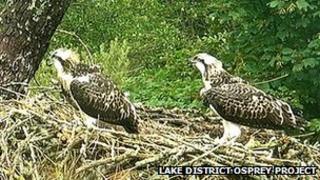 A pair of newly-born osprey chicks have been fitted with satellite trackers and ringed by conservationists in Cumbria.
The chicks were born to adult birds nesting at Bassenthwaite in the Lake District in June.
The adults, thought to be a different pairing to those that have nested at the site since 2001, arrived in April.
A spokesman for the Lake District Osprey Project (LDOP) said the young birds appeared to be "very healthy" and were expected to fledge soon.
Over the past 13 years, more than 20 chicks have been raised at the secure nest site.
'Incredible birds'
Bill Kenmir, of the LDOP, said: "We are delighted to have been able to give the chicks a health check. They are in a fabulous condition and appear very healthy. Both were weighed before being ringed.
"A small satellite tracker was also fitted to both birds, which will enable us to follow them all the way to Africa.
"Using these trackers, we can discover a wealth of information, such as how fast they are flying, where they are feeding and where they are roosting.
"It really is exciting to follow these incredible birds, which we expect to leave here around the end of August."
More than one million people have visited specially created viewpoints to see the birds of prey hunting over the lake.
Volunteers are providing 24-hour nest protection, as well as staffing the viewpoint at Dodd Wood, until September.