Penrith gamekeeper finds one of two escaped porcupines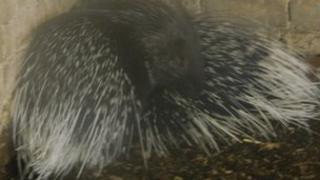 One of two porcupines that escaped from an animal sanctuary in Cumbria has been recaptured.
The father and son pair chewed their way out of an enclosure at Wetheriggs Animal Rescue and Conservation Centre in Penrith on Wednesday.
The elder animal was later spotted by a gamekeeper at Cliburn Moss, who then alerted staff at the centre.
Director Terry Bowes repeated a public warning that the missing six-week-old animal should not be "cornered".
The centre, which is home to about 1,200 animals, took delivery of a family of three porcupines earlier this week.
The father and son managed to get out of a temporary enclosure which was being used while a more permanent structure is built.
Mr Bowes said it was possible the baby porcupine was still within the grounds of the sanctuary, but that the public needed to be aware of the potential danger if the animal was approached and felt threatened.
He said while the animals, which feed on vegetation, are not naturally aggressive, they would "spike" anyone who made them feel threatened by running backwards into them.
Some porcupine quills can be up to 12in long.