Pizza worker Gail Colledge quits job after £1m win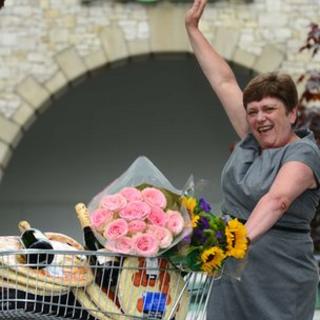 A pizza counter worker from Cumbria has handed in her notice after scooping £1m on the Lottery.
Gail Colledge said she only bought the Euromillions ticket to get rid of loose change, but won the Millionaire Raffle.
The 53-year-old, who works at Asda in Kendal, has handed in her notice and plans to go to the US to see a friend who she has only seen once in 42 years.
Mrs Colledge, whose husband Trevor died recently, said she "loved" her job but was glad not to have any money worries.
The mother-of-two said: "I absolutely love my job and have had many happy years serving pizzas and made lots of friends.
'No money worries'
"But with a big lottery win like this I just feel I can give up work and have lots of free time to do exactly what I want to do.
"All of my money worries are gone, I can treat my family and I can go to see my friend in America and travel first class - something I never dreamed I would ever be able to afford.
"My boss was really concerned that I was upset and that was the reason for me handing in my notice."
But Mrs Colledge, who has a daughter, Stacey, 26 and a son, Graham, 24, said despite her windfall she would not be moving to a bigger house, but might treat herself to a new bathroom.
Mrs Colledge has played the Lottery since its launch and has had several £10 wins.
But she said she only plays EuroMillions when there is a big jackpot on offer.
She bought her ticket from the Spar in Carnforth.
She added: "I immediately rushed out to the shop to have my ticket checked just to confirm what I was seeing really was true."