Charity formed for Cumbrian couple facing terminal illness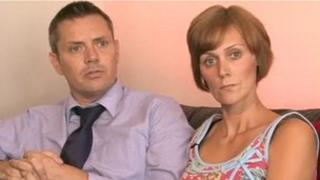 "You get the news from the doctor and it's the worst day of your life."
In April last year Paul Coulston learned he had less than five years to live.
The 38-year-old from Cumbria was diagnosed with motor neurone disease (MND) - a condition that affects the nerve cells in the brain and the spine, leading to weakness and wasting.
"I found it really hard to come to terms with it to start with.
"It was quite a slow progress really... initially because I've done so much sport and because I was falling off my mountain bike, I just assumed it was an injury, a trapped nerve or something like that," said Mr Coulston.
He worked as deputy head teacher of St George's Primary School in Barrow, but as his mobility, strength and ability to do basic tasks reduced, he had to give up his job and he now uses a wheelchair.
For any parent, trying to come to terms with being diagnosed with a terminal illness is devastating, but the Coulston family are facing the possibility their two children could grow up without both their parents.
Paul's wife Clare, a police sergeant in Barrow, was diagnosed with oesophageal cancer in 2009.
The 37-year-old has now finished her intensive chemotherapy, although she has been told she only has a 30% chance of survival.
The couple, from Birkrigg Park, Ulverston, have been together 19 years and have a boy and a girl, seven-year-old son Finlay and five-year-old Evelyn.
'Such bad luck'
"It's devastating going through what Clare went through," said Mr Coulston.
"You get through that and you think 'well it's only going to happen once' so to hear it again for myself was disbelief more than anything - to happen twice is unbelievable.
"I just try to think about the times with friends and family and it is those things that have become most important and foremost in my mind."
Now, a group of Cumbrian mums have formed the Pennington Benevolent Fund to help raise money for the couple so they can share "precious moments" with their children.
The charity hopes to raise thousands of pounds to help Mr Coulston buy things like an electric wheelchair, a mobility car and a wet-room for their home as his condition worsens.
Fundraiser Sharon Crayston said: "She [Clare] told me told me about her husband having motor neurone disease and I could have nearly fallen through the floor, I couldn't believe somebody's such bad luck.
"Instantly I thought, 'what on earth are they going to do?' If they only have a few years left with them, they really need to make the most of the time that they've got.
"I went away that day thinking 'we've got to do something to help'... I was just really, really touched."
As well as appealing for donations, the group has organised a fun run on 29 September at Pennington C of E Primary School.
The members of the charity hope they can continue to build the fund to support local families in the future.
Mrs Coulston said: "It's absolutely devastating; when I was diagnosed the thing that went through my mind as well was if I died at least the kids would have their dad, so I wasn't overly worried at the time.
"But now that Paul has been diagnosed with a terminal illness we face the possibility of our children growing up without either parent.
"We have got a lot of close family and friends and we know if anything does happen they will be ok, it's just they won't have a mum and a dad."