Barricaded driver of Stephane Sessegnon's stolen BMW jailed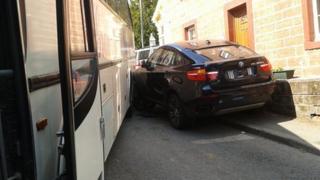 A man has been jailed for 25 months after an incident in which police used a school bus as a barricade in an attempt to stop a stolen car.
Steven Quinn, 32, of Gretna Road, Carlisle, drove 40mph in a crowded street during Appleby's horse fair.
Quinn admitted charges of dangerous driving, driving without a licence and with no insurance, and handling the car knowing it had been stolen.
The BMW had been taken from the home of Sunderland striker Stephane Sessegnon.
Bus carried 30 children
In June, pedestrians in Battlebarrow had to jump out of the way and a horse had to be put down after the BMW X6 hit the cart it was pulling.
It emerged that Cumbria Police had asked the bus driver to position his vehicle that was carrying 30 children in the path of the BMW to help them stop it.
The vehicle had been stolen during a raid at Sessegnon's home several weeks before.
Quinn was arrested after he got the car wedged between a wall and the bus as he tried to avoid the roadblock.
He was also banned from driving for two years at Carlisle Crown Court.
The judge told him he was lucky not to have killed someone.