Bassenthwaite ospreys produce two chicks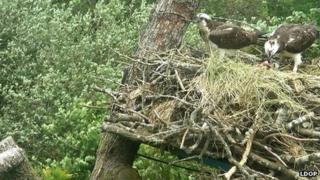 A pair of nesting ospreys in Cumbria have produced two chicks at a secluded site at Bassenthwaite.
The birds, thought to be a different pairing to those which have nested at the Lake District site since 2001, arrived in April.
Members of the Lake District Osprey Project (LDOP) said both chicks, believed to have hatched within the last week or so, are doing well.
Over the last 13 years, more than 20 chicks have been raised at the nest.
A project spokesman said: "The oldest is over a week old now and fully fluffed out in in a white baby grow down.
"Both chicks are being fed regularly and appear to have hollow legs."
More than one million people have visited specially created viewpoints to see the birds of prey hunting over the lake.
Volunteers are providing 24-hour nest protection, as well as staffing the viewpoint at Dodd Wood, until September.