Pregnant war veteran Naomi Thriepland loses drugs appeal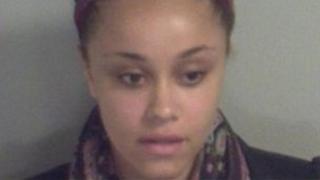 A war veteran who used her daughter as "cover" to smuggle heroin through the Channel Tunnel has failed to win a reduction to her four-year prison term.
Naomi Thriepland, who served in Iraq and Afghanistan, admitted the drugs run, claiming she was trying to make a better life for her child.
Judges at London's Appeal Court ruled the jail term was not excessive.
The 26-year-old from Dalton, Cumbria, is pregnant and due to give birth "imminently", the court heard.
Thriepland was arrested by customs officers when she travelled through the Channel Tunnel in December 2011 in a BMW convertible.
Amsterdam trip
A search of the car's roof space uncovered 3.5kg of heroin with a street value of about £150,000.
Thriepland told officers she was returning from a trip to Disneyland Paris with her seven-year-old daughter, the court heard.
"Whether they had been to Disneyland or not, they had certainly been to Amsterdam," Judge Alistair McCreath said.
Thriepland's legal team described her as "naive" and said she was due to be paid £3,500 for her role.
Judge McCreath, sitting with Lord Justice Fulford and Mr Justice Griffith Williams, accepted there were "compelling mitigating factors" in the case, but added that Thriepland's crime was motivated by pure financial gain.
"The sentence was neither wrong in principle nor manifestly excessive", he said.