Royal Navy man Frank Walton, 88, visits WWII crash site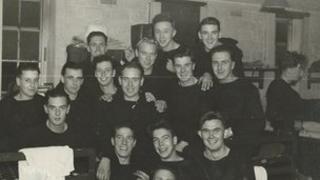 A former airman who was supposed to be on a World War II plane that crashed killing three men has visited the site for the first time.
Royal Navy airman Frank Walton visited Great Gully, above Wastwater in the Lake District, where the plane went down during an exercise night-flight, in 1945.
Retired Post Office worker Mr Walton, 88, of Preston, had been due on the exercise but had swapped his shift.
He said visiting the scene, where his friend Phillip Mallorie, 19, perished was "astounding", but upsetting.
Members of Keighley Sub Aqua Club found the Royal Navy Grumman Avenger aircraft's engine block in the lake, during a dive in 2013.
The team put out an appeal for anyone who knew the men on board and Mr Walton came forward.
Divers returned in April to search the lake, which is England's deepest, to try and find the aircraft's tail section.
They did not find it but are to return in August to try again.
Fly at night
Mr Walton said: "It's a bit upsetting thinking about what must have happened.
"It was a terrible thing. I've never seen the area before because we used to fly over here at night.
"I knew Phil pretty well. We were not close friends but we had all got on well together and he was a nice lad.
"I never expected the area to be as nice as it is, it's lovely to finally see - it has been astounding, but upsetting."
The aircraft crashed into a scree slope above Wastwater, which lies at the foot of Scafell, England's highest peak.
Mr Mallorie took his place on the flight when Mr Walton was sent to join another crew.
The other men who died were pilot Lt Barnard Kennedy, from Hamilton Ontario, a Royal Canadian navy volunteer reserve and navigator Gordon Fell.
The cause of the crash is still a mystery, but it is believed the men died instantly.
Keighley Sub Aqua Club member, Graham Clay, said club members were fascinated by the case.
'Mixed feelings'
He said: "Apparently you can still find small pieces of aluminium and other debris from the crash on the scree slope.
"I think the engine block and tail section, being heavy, slid down the scree and basically dropped into the lake."
He added: "Ultimately it would be nice to have a commemorative plaque to put on the aircraft's engine block, which is something we will think about.
"I can imagine the mixed feelings which Frank must have felt looking at the crash site."