Thousands take part in Windermere Great North Swim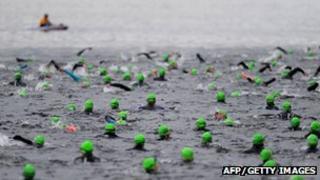 Thousands of people are taking part in what has been billed as the UK's largest open water swimming event.
Windermere's Great North Swim annually attracts up to 10,000 entrants.
Swimmers must wear wet suits for the half-mile (0.8 km), one-mile (1.6km) or two-mile (3.2 km) courses.
The three day event, which culminates later, raises large amounts for charity, and gives a substantial boost to the local economy.
Saturday's elite events featured some of the best in the world, with Welsh swimmer Tom Allen winning the men's race and the USA's Christine Jennings the women's.