Furness College opens doors to the public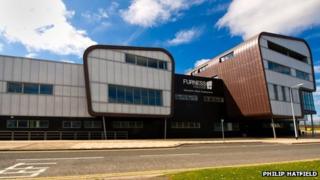 A further education college in south Cumbria is opening its doors to the public following a major refurbishment.
Barrow's Furness College, which caters for about 5,000 students, said it had been a long process.
The £43m campus has incorporated some older buildings while others have been demolished, and new facilities include a sports hall, gym and dance studio.
Its centrepiece is the main teaching area, dubbed "the copper box", because it is clad in the metal.
Members of the public have been invited to take part in various activities during its open day.
Principal Anne Attwood said: "This is a momentous occasion not only in the history of Furness College, but also for the local community."