Sellafield fined for sending radioactive waste to wrong site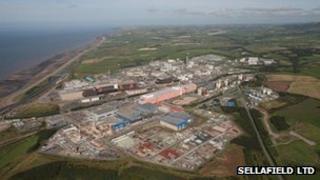 The owner of the Sellafield nuclear plant has been fined £700,000 after admitting sending low-level radioactive waste to a landfill site.
Sellafield Limited admitted sending four bags, containing plastic and metal waste, from its plant to Lillyhall landfill in Workington in April 2010.
The bags should have been sent to the Low Level Waste Repository at Drigg.
Sellafield spokesman Tom Foster said extra safety checks had been implemented at the plant.
The charges were brought to Carlisle Crown Court by the Environment Agency and the Health and Safety Executive.
Despite Mr Foster claiming Sellafield "didn't meet our own expectations" in respect of safely disposing of the dangerous materials, he said the firm was considering appealing against the amount of the fine.
Judge Peter Hughes told the hearing there had been basic management failures at the site which demonstrated a culture that was "too lax" and to a degree "complacent".
All four of the bags, which contained plastic, metal and wood, were retrieved from the landfill and returned to Sellafield for correct disposal.
Sellafield said the bags had wrongly been marked as "general" waste making them exempt from strict disposal controls.