Copeland Council garden waste 'contamination' warning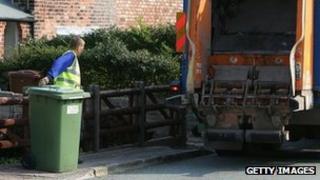 Householders in part of Cumbria have been warned they could lose their garden waste collections if they do not use them properly.
Copeland Council said non-garden waste in just one bin contaminates the whole vehicle's collection, meaning none of it can be composted.
Recently, 30 tonnes had to be incinerated, which cost £1,500.
Stickers are being put on offending bins, saying that if a mix up continues they will no longer be collected.
Councillor Peter Kane, portfolio holder for the environment, said: "It's disappointing that we're having to incinerate good, compostable waste because a few people are choosing to try and dispose of other waste.
"In some cases, we think this is because the resident is unsure of what can be recycled, but in many others, it's because household waste has been hidden under garden waste, which is completely unacceptable.
"Not only does this stop suitable garden waste being composted, but it also costs the council tax payer money in both the additional costs to dispose of the waste and the loss of income from recycling the garden waste."