Cockermouth gets self-closing flood barriers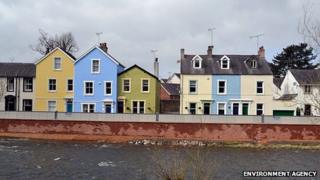 The UK's first self-closing flood barriers have been installed in a Cumbrian town repeatedly hit by floods.
The £4.4m project in Cockermouth aims to prevent a repeat of the devastating flooding that hit the town in 2009, when a month's rain fell in 24 hours.
It includes a 390ft-long (120m) self-closing barrier, which rises only when the river is in flood.
In November 2009, water levels in the town reached 8.2ft (2.5m) and about 200 people were rescued by emergency crews.
The scheme has been designed to be unobtrusive so it protects the town's Georgian heritage and the experience for visitors.
'New chapter'
It includes stretches of glass panels, raised embankments and flood gates, while existing riverside structures have been strengthened so they could be incorporated into the defences.
The Environment Agency, which contributed £3.3m, said the scheme would protect 400 homes and businesses.
The rest of the funding came from a partnership of residents, businesses, local councils and community groups.
David Rooke, director of flood risk management at the Environment Agency, said: "Cockermouth was devastated by flooding in 2009 and the opening of this scheme is a new chapter for the town.
"Protecting Cockermouth residents from flood was hugely important, but it was also important that the scheme was sympathetic to the historical surroundings and did not impact on the local tourist trade which is so vital to the town's economy."