Police arrest 20 men travelling to Appleby Horse Fair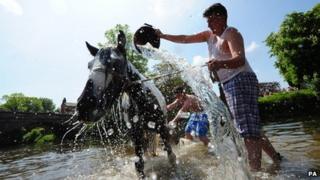 Police say they have stopped the threat of "serious violence" by arresting 20 men travelling to the Appleby Horse Fair.
Officers from the Cumbria and Durham forces held the men from the North East on suspicion of conspiracy to cause grievous bodily harm.
Supt Sean Robinson warned groups not to "bring their disputes" to the annual festival, which attracts thousands of Gypsies and travellers.
The event runs until Tuesday.