Cockermouth floods: How community coped with 2009 devastation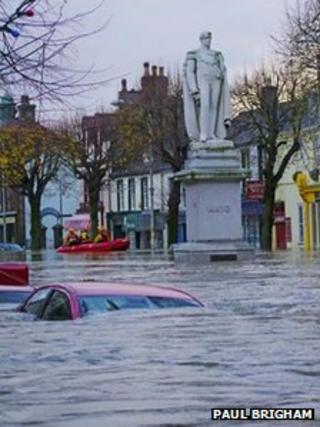 In November 2009 an entire town and community in Cumbria was left devastated.
Unprecedented rainfall caused rivers and streams to spill into hundreds of homes and businesses.
The town was one of the worst flood-hit areas in the county with an estimated 900 properties and 1,400 people affected.
It was the third time the area had flooded in four years and a community group set up after floods in 2005 decided it was time to take action.
"Everybody realised we lost our town, our shops, our homes, our social areas that make a community a community and we didn't want that to happen again," said Sue Cashmore, chair of the Cockermouth Flood Action Group.
For the past three years, the group has worked alongside the Environment Agency to develop a £4.4m flood barrier.
'A surreal time'
On 19 November 2009 water levels in the town reached up to 8.2ft (2.5m) and hundreds of people had to be rescued by emergency services.
Clothes banks, support clinics and action groups were set up as the community struggled to cope with the physical and emotional effects of the floods.
Sue Cashmore's home was flooded for the third time in 2009, leaving her, her two daughters, two dogs and her cat stranded on the first floor of their home on Gote Road for about 17 hours.
About 7ft (2.13m) of water rose to almost the top of the ceiling of the ground floor and the family had to be rescued by the RNLI.
She said: "When I woke up I could her the water sloshing around and I thought 'oh my gosh, what if it has come on to the first floor?'.
"It was a surreal time. You're just thinking 'am I going to survive or not?'.
"The water is scary but it is the year after that is the hardest - thinking your life is never going to get back to normal again, but we got through it."
For some, life after the floods has still not returned to normal.
Michelle Lockett and her daughter Claire now live in Carlisle after their house, behind Main Street in Cockermouth, was flooded.
They spent 228 days in a hotel and have been in an apartment in the city since, dealing with the "stress, illness, anxiety and exhaustion" of the aftermath of the floods.
Ms Lockett said: "Everything has changed for us because we've had to move and we are still not settled.
"It's very ageing. I think it has made me stronger because you have to keep going.
"It was very difficult and frustrating but we toughened up and got on with it."
Ms Lockett still has not settled her insurance claim and is unsure if she will return to their house in Cockermouth as she feels it will never be the "family home it was purchased for" again.
Making a difference
According to Cumbria County Council, the county's tourism businesses lost an estimated £2.5m due to the floods.
A survey by Cumbria Tourism found that 72% of tourist businesses across the county suffered some negative impact because of the floods and 6% of tourist business closed down completely.
Now, nearly four years later, more than £4.4m has been spent on flood defence work in the town.
The Environment Agency has built walls, embankments and flood gates along the Cocker and Derwent rivers to help protect 360 vulnerable homes and 55 businesses prone to taking in water.
The agency has already built new flood walls and fitted gates to protect homes in Waterloo Street and Graves Mill.
Construction has also begun on an embankment along Derwentside Gardens where existing flood walls are being extended.
Cockermouth Flood Action Group raised an estimated £420,000 towards the cost through a mixture of appeals and persuading the local authority to increase the council tax.
Ms Cashmore said: "I am proud of my community and the fact we dug deep, came together and made a difference."