Lake District ospreys produce eggs at Bassenthwaite nest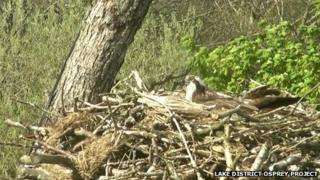 A pair of nesting ospreys in Cumbria have produced two eggs at a secluded site at Bassenthwaite, experts believe.
The birds, thought to be a different pairing to those which have nested at the Lake District site since 2001, arrived in April.
Members of the Lake District Osprey Project (LDOP) believe the first egg was laid early last week.
Since ospreys returned to the secure Bassenthwaite nesting site, a total of 24 chicks have been raised.
Pete Barron, of the LDOP, said: "Since 7 May, we have noticed a change in the behaviour of the ringed female.
"She is now regularly shifting around the nest and turning the eggs. When the male returns to the nest and brings in fish, he also takes a turn to incubate the eggs.
'Wonderful news'
"This is classic behaviour which indicates the pair incubating their clutch.
"We have at least one, maybe two eggs, but to add to the excitement the birds continue to mate, suggesting there may still be more eggs to come in the next few days.
"It is wonderful news that this new pairing have successfully mated and we hope for a full clutch with three chicks hatching in a few weeks time."
Incubation is carried out mainly by the female and takes up to 40 days, with the average being 37.
Ospreys usually lay three eggs, so the LDOP team are keeping their fingers crossed for the arrival of more eggs.
More than one million people have visited specially created viewpoints to see the birds of prey hunting over the lake.
Volunteers are providing 24-hour nest protection, as well as staffing the viewpoint at Dodd Wood, until September and the Whinlatter Visitor Centre.