Bassenthwaite ospreys: New female ousts rival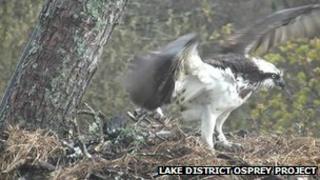 A newcomer osprey sent feathers flying in the Lake District when she ousted the resident female from her nest.
The ringed bird, previously spotted in Senegal, saw off the female from the Bassenthwaite nest and has settled down with the un-ringed male.
Members of the Lake District Osprey Project said they hoped the new couple would produce chicks.
This is the 13th year the ospreys have nested at the site since 2001, raising a total of 24 chicks.
The new bird arrived last week and the other female has not been spotted since.
Fran Currie, from the osprey project, said: "The un-ringed male seems to have been charmed by the new female, as he has been mating with her and bringing lots of fish to the nest."
'Fingers crossed'
The Lake District Osprey Project is managed by a partnership of the Forestry Commission, Lake District National Park Authority and the RSPB.
Volunteers provide 24-hour nest protection, and staff the viewpoint at Dodd Wood and the Whinlatter Visitor Centre.
Ms Currie added: "The new female was ringed north of Fort William, Inverness-shire in 2009, so at four years old, this could be her first year of breeding.
"The whole team are keeping all their fingers crossed for the arrival of some eggs."