Ulverston Sainsbury's denied as council approves rival site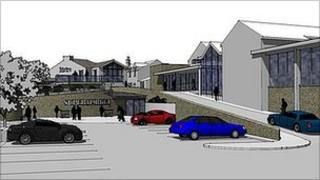 Planners have approved a controversial scheme for a supermarket in a Cumbrian town and blocked a rival development.
South Lakeland District Council followed advice to reject an out-of-town Sainsbury's in Ulverston, in favour of developing the old Robinson's brewery site in the town centre.
Ulverston Town Council and other groups opposed both schemes.
Very few residents expressed support for the approved plan, while about 150 backed the rejected Sainsbury's.
The brewery application was passed by a narrow margin of seven votes to six.
Planning officials advised against proposals for the out-of-town site, off the A590 towards Swarthmoor, because it was a piece of greenfield land earmarked for industry rather than retail.
A South Lakeland District Council report also suggested the Robinson's brewery development, which will become an as yet unnamed supermarket, would alleviate pressure for undesirable out-of-town supermarkets.
'Disappointed'
Catherine Thompson was among those who supported the Sainsbury's proposals.
She said it would have had "a very positive impact on the local economy".
"It's a very emotive subject. People want jobs and they want a decent supermarket," she added.
Paul Kingsworth from the campaign group Keep Ulverston Special said both schemes would be damaging to the town.
He said the recommendation in favour of the town centre scheme relied on the "spurious" suggestion it would claw back trade currently going to Barrow about 10 miles away.
He said the proposed developments would "really knock out trade in the town centre and the local economy".
The group also rejected the suggestion approving one plan would eliminate pressure for another supermarket.
Sainsbury's said it was disappointed with the decision and it would "take some time" to consider its next steps.