Lake District ospreys: new pair at Bassenthwaite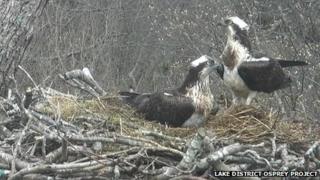 A pair of Ospreys has set up home in the Lake District, with experts hoping for a 13th breeding season.
The birds are thought to be different to ones which have nested at the site in previous years.
A total of 24 chicks have been raised near Bassenthwaite since 2001, when ospreys returned to the area after an absence of more than 150 years.
The Lake District Osprey Project (LDOP) said it would be "fantastic" if more arrived.
Distinctive markings
Nathan Fox, of the LDOP, said: "We are really excited to have these two birds at the nest site.
"It's interesting they are different birds to previous years.
"The female is unringed and we believe she is a different bird, but the male, who is also unringed, is definitely a new visitor here as he has distinctive markings."
The Lake District Osprey Project is managed by a partnership of the Forestry Commission, Lake District National Park Authority and the RSPB.
Volunteers provide 24-hour nest protection, and staff the viewpoint at Dodd Wood and the Whinlatter Visitor Centre, where there are plans to screen live "nest-cam" pictures.