Richard Rhodes PCC expenses 'leak': Police make third arrest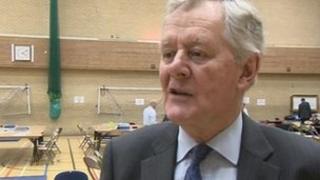 Detectives investigating the alleged leak of expenses claims made by Cumbria's police and crime commissioner (PCC) have made a third arrest.
The Penrith man was held on suspicion of perverting the course of justice after details of two chauffeur-driven journeys by Richard Rhodes appeared in a newspaper. He was later bailed.
Two Cumbria Police staff members were arrested and bailed on Tuesday.
Labour MP Jamie Reed has asked Home Secretary Theresa May to intervene.
In a letter to Ms May, the Copeland MP said: "As a matter of urgency, I ask that you determine the facts of this case as quickly as possible so that these matters can be resolved beyond doubt."
Liberal Democrat president Tim Farron, MP for South Lakes, described the arrests as "a threat to free speech".
"Details of the expenses of public officials ought to be publicly available anyway, we shouldn't have to rely on leaks to find these things out," he said.
'Whistle-blowing policies'
The 54-year-old man - who does not work for Cumbria Police - was arrested after a search of an address in Penrith on Thursday.
The police staff members, a man aged 47 and a woman aged 50, were held on suspicion of data protection offences and misconduct in a public office.
Their arrests followed a complaint by the PCC's office when it was approached by a newspaper for a comment relating to an expenses claim of almost £700.
A Cumbria Police spokeswoman said the force had "whistle-blowing policies and processes" for officers and staff who wanted to "raise legitimate issues or concerns in a lawful and appropriate way".
"However, it appears that these processes have not been followed in this case and the investigation is focusing on data protection issues and the unlawful disclosure of confidential information," she added.
The PCC said he had asked the force's chief constable to review the "scale and nature" of the investigation.
"I have not had any involvement or input into how the constabulary has dealt with this matter," Mr Rhodes said.
His office said it was decided for "personal safety reasons" that a driver would be provided for some evening functions.
The PCC repaid the bill as soon as he was made aware of the cost.