Cumbria Police staff arrested over PCC driver 'leak'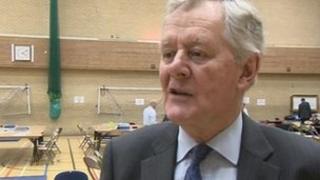 Two Cumbria Police staff members have been arrested after details relating to the police and crime commissioner's expenses appeared in a newspaper.
It was reported Richard Rhodes had arranged two chauffeur-driven return journeys, costing nearly £700, to evening speaking engagements.
Mr Rhodes has since repaid the amount.
A man, 47, and a woman, 50, were held on suspicion of data protection offences and misconduct in a public office. A second man is suspended.
A Cumbria Police spokeswoman said they had been bailed until 25 May.
Mr Rhodes' office said it was decided for "personal safety reasons" that a driver would be provided for some evening functions with "long and late return journeys".
"There were only two instances when a private hire company was used to drive Mr Rhodes to an evening meeting or speaking engagement and these both resulted in a travel time of between one and half hours and two hours late at night," a spokeswoman said.
"When the commissioner was appraised of the cost he immediately stopped the practice of hiring drivers. The commissioner has personally reimbursed the full cost of the journeys"
After a review Mr Rhodes has since been provided with a car. The commissioner has travelled 3,600 miles in the last two months.