Stainmore Railway Company needs £40,000 to build workshop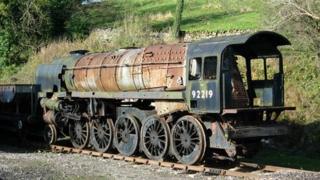 A heritage railway restoration project has launched a £40,000 fundraising bid after planners gave the go-ahead for a new workshop.
Stainmore Railway Company, which is run by volunteers based at Kirkby Stephen East Station, has been given permission to build the 150ft (45.7m) workroom.
But it needs to raise the money for the building, which will ensure restorers no longer have to work outside.
The firm also plans to open platforms which have been closed for 40 years.
The station in the Upper Eden Valley is 150 years old and closed in 1962.
Volunteers, who started doing preservation working on the site in 1997, have almost finished work restoring six vintage, wooden carriages.
A spokesman for the company said: "Volunteers working on rolling stock will no longer have to lie on the track outside in all weathers to maintain and restore the historic coaches and engines in their care.
"The workshop will also allow the inside of the station to be cleared of tools, coaches and spare parts, making it possible for the currently inaccessible southern half of the platforms to be opened to the public for the first time since the station closed."