Windermere boat family suffer suspected carbon monoxide poisoning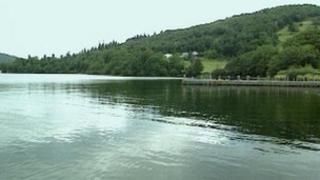 A woman and two children were taken to hospital after becoming ill from suspected carbon monoxide poisoning from on board a boat on Windermere.
The family were taken to the Royal Lancaster Infirmary on Saturday night after becoming ill on a friend's boat.
Police believe the engine had been left running with the canopy closed, although the family later told the BBC that had not been the case.
It comes one week after the death of a mother and her daughter on a boat.
Kelly Webster, 36, and Lauren Thornton, 10, from Leyland, Lancashire, died from a suspected carbon monoxide leak on a boat on Windermere on 1 April.
Ms Webster's partner Matthew Eteson, 39, also from Leyland, was taken to hospital, but was later released.
Mark Roach, from Cumbria Fire & Rescue Service, said: "Please remember carbon monoxide is a poisonous gas given off by all appliances burning fossil fuels such as gas, coal, wood or oil, if they're not working properly or in an enclosed space.
"Incidents can prove fatal and even low levels can cause lasting damage to your health.
"Carbon monoxide has no taste, smell or colour. We strongly recommend that you fit an audible carbon monoxide alarm in your home and take one on holiday."
The woman and her two children were later released after treatment.
Update 11 April 2013: This story has been changed to reflect information from the family involved about the circumstances of the incident.