Sellafield shutdown: Severe weather closes nuclear site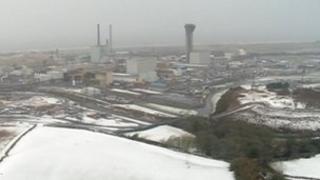 The Sellafield nuclear reprocessing plant has been shut down because of severe weather conditions.
A 'site incident' was declared at the Cumbria base and plants moved to a "controlled, safe, shut-down state".
Sellafield Ltd said the move, which came as snow and high winds affected the county, was to allow staff to leave early and get home safely.
It said the shutdown was nothing to do with the work at the site and there were no safety issues.
Spokesman Karl Connor said: "This is purely a safety issue because of the high winds and snow we want our 8,500 workers to go early and get home safely."
Protect workforce
In a statement Sellafield Ltd said: "In response to the current and predicted adverse weather conditions on and around the Sellafield site, as a precaution, a site incident has been declared and the plants on the site have been moved to a controlled, safe, shut down state.
"The site emergency control centre has been established and is managing the incident in line with well rehearsed procedures.
"We have implemented a phased early release of staff from the site; this is being carried out in a safe, controlled manner.
"There is no reason to believe that there will be any off-site nuclear, environmental or conventional safety issues associated with the incident. The priority for the team is to protect our workforce, the community and the environment."
A skeleton staff remained at the site but no reprocessing work will be conducted until Monday.
Most of the plant will be maintained in a 'quiescent state', which means functioning at a low level, until then.