High winds and snow cause problems in Cumbria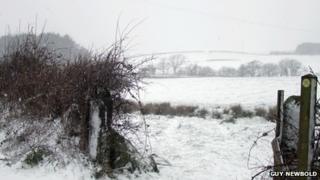 Drivers in south and west Cumbria have been urged not to travel unless necessary amid snow and high winds.
Cumbria Police said it had received 800 calls for help including drivers involved in crashes or stranded because of fallen trees.
About 450 homes in the Carleton, Workington and Seascale areas remain without power after lines came down.
Electricity North West said it was working under difficult conditions to restore supplies as soon as possible.
The adverse weather led to the closure of about a dozen schools.
Many roads in the county are still only passable with care including the M6 Hackthorpe to Shap and the A590 at Barrow, police said.
Snow drifts
Those closed include the A66 trans-Pennine route, a number of stretches of the A595, and the Kirskstone and Hartside passes.
Cumbria Police said a reception centre had opened at Millom High School for a few people who have been stranded in their cars in the local area.
They advised people not to travel unless absolutely essential, and to check on people who might be vulnerable or elderly.
Guy Newbold, from Seascale, Gosforth, said the wind had been "howling" since early morning.
"We have four foot snow drifts on our lane and it's wild outside," Mr Newbold said.
The annual Coniston 14 road race, scheduled for Saturday, has been postponed.
Organisers said it would be rearranged for a date in October.