Gordon Park death: Suicide verdict at inquest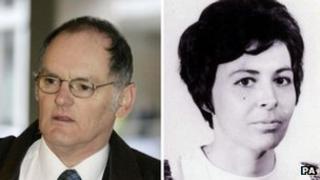 An inquest has ruled that "Lady in the Lake" killer Gordon Park intentionally took his own life in prison in 2010.
Park was found dead in his cell at Lancashire's Garth Prison 34 years after killing his first wife Carol and dumping her body in Coniston Water.
The jury heard Park had hidden signs he was planning to take his own life in the early hours of his 66th birthday.
His family, who have always maintained his innocence, have vowed to continue their fight to clear his name.
The jury of five women and a two men at Preston Coroner's Court took less than two hours to reach their unanimous verdict, that Park intended to kill himself by placing a plastic bag over his head.
The family's representative in court, Pastor George Harrison, said there were concerns about how the prison had dealt with him before his death.
'Game changer'
The retired schoolmaster bludgeoned the 30-year-old mother-of-three to death with an ice axe in July 1976 and dumped her in the lake near the family home in Leece, near Barrow-in-Furness.
Her body had come to rest on an underwater ledge and was found by amateur divers 21 years later.
Earlier, Park's third wife, Jenny, told the inquest that he "hated every minute" of his confinement and it was "a dark place for him".
Park was jailed for life in 2005 to serve a minimum of 15 years, but always maintained his innocence.
The hearing was told Park was put on suicide watch when it was discovered he had read the official report into the prison suicide of mass murderer Harold Shipman.
Appeal failure
Mrs Park said her husband was "devastated" when his regular pastoral visits from Pastor Harrison, an Evangelical church elder, were stopped the month before his body was found on 25 January 2010.
A fellow prisoner told the hearing he thought the visit ban was a "game changer" on top of his sentence and failure to win an appeal.
Coroner Dr James Adeley considered whether the jury could be asked to determine if the stopping of the pastoral visit had contributed to his death.
But he ruled it was not appropriate because it was uncertain when Park was told about the visit ban and it was difficult to establish whether it had any effect.
He said: "Although various witnesses have said that Gordon Park was upset at the cessation of visits there is nothing that provides the necessary causal connection to the death."