Police seek 'heartless' Dearham canary thieves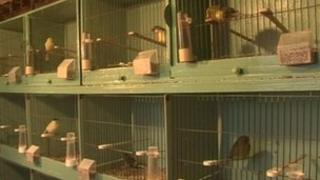 "Heartless" burglars who stole an elderly man's collection of prize-winning birds are being sought by Cumbria Police.
Twenty gloster canaries were taken from a shed in Maryport Road, Dearham, in the early hours.
Police said that the owner, a 79-year-old man who showed them around the UK, was "very distressed" by the theft.
It is thought his shed was targeted for the birds, which sport green and yellow variegated colours.
A Cumbria Police spokesman described the burglars as "heartless".
He said: "Stealing 20 birds without making a noise will have been extremely difficult, if not impossible, so it is likely that local residents may have heard a disturbance.
"We are determined to catch the thieves responsible and trace the distinctive birds so we can reunite them with their owner."