Red squirrel populations spread in Lake District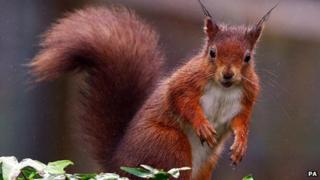 Red squirrels have been spotted in parts of the Lake District where they have "not been seen for years".
Westmorland Red Squirrel Society said squirrel populations are "healthy" and spreading in the Grizedale Forest area.
Jackie Foott, the project co-ordinator, said she had been "immensely encouraged" by the number of sightings.
The society was given almost £50,000 from the Heritage Lottery Fund to fund a two-year project to help the growth and protection of the species.