Cumbria divers find toilet in Windermere litter pick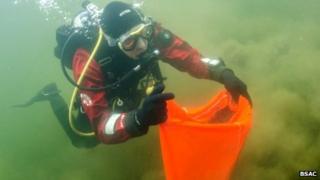 A toilet, pots and pans and a children's scooter were just some of the objects found among 10 tonnes of rubbish found at the bottom of Windermere.
About 260 divers and 100 volunteers from as far as Sweden and Argentina, took part in an underwater litter pick on Saturday, with water temperatures only reaching 4C.
The divers found enough rubbish to fill a shipping container, including 73 car tyres, kitchen utensils and glass bottles dating back as far as the 1800s.
Professional diver and television presenter Paul Rose said he was "really amazed" by what the team found.
He said: "I wasn't surprised that we got 10 tonnes because I dive in the lake a lot and swim over lots of this stuff, like bottles and cans, all of the time.
"But what was really shocking, was finding things like car batteries. I presume they were just discarded or accidentally lost from boats, but they are incredibly toxic to the environment.
'Accidental plop'
"The thing that did surprise me was the amount of kitchen utensils in there - now where did they come from? Knives and forks, pots and pans, I was really amazed by that, I thought that was a big surprise.
"Things like toilets, I mean you don't accidentally plop a toilet into a lake.
"I reckon that the volume of debris that we recovered adds up to about a shipping container full and that has not even scratched the surface."
Once the 10 tonnes of rubbish has been given a clean, it will be used for art projects in local schools and also for a Kurt Schwitters art project at the Merz Barn in Eleterwater.
Mr Rose said: "As you start working on the bottom and picking things up, you can literally just stay in that one place and work your way down through layers and layers and layers of debris that has accumulated over the years - it's unbelievable.
"There's something about seeing these beautiful objects that have been made by students, as a way of engaging with the terrible objects that were under water.
"It's a lovely way of trying to extend the passion and energy we feel, for the disrespect we show to our waters and seas."
Once the sculptures have been exhibited, they will be auctioned for local charities.
Previous litter picks have seen things like traffic cones, shoes and a Second World War mortar bomb being found.