Kendal Torchlight Carnival volunteer call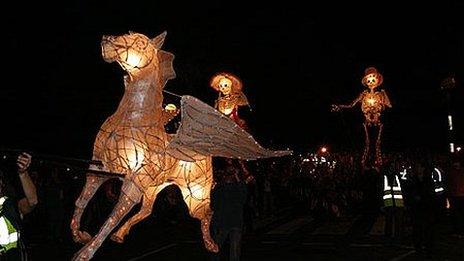 People in south Cumbria are being invited to step forward to ensure an annual festival is a success.
In 2012 the Kendal Torchlight Carnival was cancelled for the first time in 42 years due to lack of funds and volunteers to act as safety marshals.
Following a £10,000 donation from the town council, the event is now set to go ahead in September.
Organisers are now seeking "committed and trustworthy" people for the Torchlight 2013 Team.
The carnival, which features a parade through the streets of Kendal, attracts up to 30,000 visitors.
Volunteers are needed for roles in promotion, sponsorship, choreography and finance.
Organisers said: "We seek committed people who are capable of taking responsibility and fulfilling all job requirements.
"It's a fantastic challenge, an opportunity to network, make new friends and contacts and play a crucial public role in Kendal's business and resident communities."
Related Internet Links
The BBC is not responsible for the content of external sites.