Cumbrian butcher upset at 150-year-old safe theft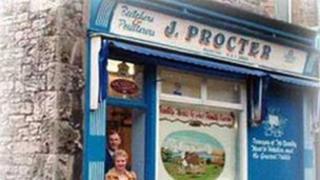 A butcher said he is "devastated" after thieves stole a 150-year-old safe containing sales ledgers dating back decades from his Cumbrian shop.
Mike Barber discovered the break-in at Procters, in Grange over Sands, on Tuesday morning.
Cumbria Police said offenders forced open a side window and stole the safe, which contained £1,000, along with the ledgers dating back to 1945.
Mr Barber said he was upset for his father who spent 60 years at the shop.
Mr Barber said: "I had to tell him about it.
"He was quite upset about it because it was 60 years of his life."
Coin collection
Mr Barber's father, 88-year-old father John, known locally as Towers, retired from the business three years ago.
He started working there in the early 1940s, before serving in the World War II. When he returned he bought a share of the business in 1947.
Mr Barber, who has worked at the shop for 45 years, said the ledgers contained details of wages and other transactions to do with the business and his father would look at them and show them to customers.
The safe also contained some of his father's coin collection including pristine £1 notes.
Mr Barber said he hoped the documents would be returned as they were no use to anyone else.
He said: "I'm a bit gutted, upset for my dad. It's life isn't it nowadays?"
Cumbria Police are investigating the burglary, which happened between midnight and 07:30 GMT on Tuesday, and appealed to the community for information.