Betty Brown inquest finds sex attack likely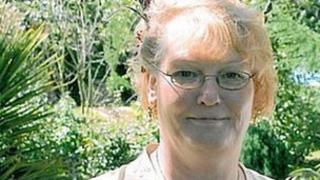 A woman whose semi-naked body was found in Cumbrian woodland was probably the victim of a sexually-motivated attack, an inquest heard.
Elizabeth "Betty" Brown, 56, was found on the outskirts of Longtown in January 2011. She was last seen alive in Edinburgh in May 2010.
Deputy coroner Robert Chapman recorded an open verdict because the cause of death was not established.
He said he believed he could rule out suicide.
Investigation continues
The inquest at Carlisle Crown Court heard how the mother-of-three was found wearing no trousers or underwear.
Mrs Brown had travelled on the X95 bus from Edinburgh to Longtown in Cumbria, where she would normally have been picked up by her daughter who lived in nearby Gretna.
But her daughter was unaware of her journey and said it was "uncharacteristic" for her mother to visit unannounced.
Mrs Brown's body was found by a dog walker in heavy woodland.
The care worker's remains were so badly decomposed it was "impossible" for a pathologist to determine how she died.
Cumbria Police said it was continuing to investigate.