Cumbria Nuclear waste store rejection upheld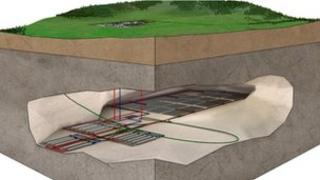 A decision by Cumbria County Council to reject plans to search for a site for a nuclear waste store has been upheld.
The council vetoed plans to help the government's search for a site but three cabinet members called-in the decision to be reviewed.
The council's Environment Scrutiny Panel unanimously upheld the decision.
Cumbria was the only county in the running for the site but voted seven to three against progressing the plans to the next stage in January.
The next stage included detailed geological investigations and discussions over the social and economic implications.
Conservative leader of the council Eddie Martin said there was "sufficient doubt around the suitability of West Cumbria's geology" and the decision was "right" for Cumbria.
Mr Martin also announced that he would not be standing at the next election to be held in May.
'More nuclear investment'
Three Cumbria County councillors, David Southward, Frank Morgan and Wendy Skillicorn, called-in the decision, meaning the cabinet wished to examine the original rejection.
However, the scrutiny panel members voted unanimously to uphold the original decision.
In response to a claim that councillors had voted against the plans because of the council elections in May, he said that was not the case and that he would not be standing again.
Mr Martin said: "I'm quite certain the decision is the right one for Cumbria, that isn't to say we are anti-nuclear. The county council wants more investment in Sellafield, not only in the storage sites but in nuclear reactors and so on."
Mr Martin has been the council leader since April 2010 but announced that he would not be standing in the next election.
He said: "I've taken a long hard look at whether I should continue. I know I look like a spring chicken, but I'm 72 and I'm tired. I shall miss the county council.
"I have to say sometimes I don't even know that some members of the government know where Cumbria is and occasionally I would like central government to pay just a little bit more attention to the problems we have in Cumbria."