The day The Beatles came to Carlisle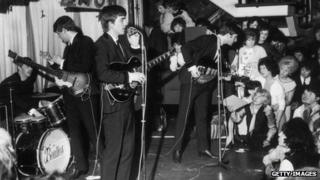 In February 1963 cinema audiences were falling for Peter O'Toole's dashing Lawrence of Arabia and wishing they were going on Cliff Richard's Summer Holiday with him.
But at the ABC Cinema in Carlisle, on Friday 8th, the big screen was pushed back and a new band called The Beatles took to the stage.
The Fab Four were so little known they were reportedly asked to leave a golf club dance at a nearby hotel for being inappropriately dressed.
When they returned nine months later, now chart toppers, they had to be smuggled out of the cinema in a post office van by a local sergeant dressed as a postman.
Calum Scott-Buccleuch, then a 25-year-old stagehand and son of the cinema's manager, remembers it was "quite a job" keeping them away from their screaming fans.
"The kids were outside queuing for three or four days before the booking office opened. It was an absolute riot."
He thought - wrongly - his job would afford him the perfect spot, at the side of the stage, for listening to the concert.
'Screams and hysteria'
"You were in on the atmosphere," he said, "but you couldn't hear them.
"It was all distorted with the screams and the hysteria."
But in February interest was modest and The Beatles were down the billing.
Singer Helen Shapiro - still only 16 - was the headline act. Comedian Dave Allen was the compere.
Beatles historian Dave Bedford said: "Love Me Do had only come out at the beginning of October '62 and that only got to number 17 in the charts.
"They were really minor recording stars at the time."
He said a Royal Variety performance later in the year - at which "Beatlemania" was coined - and a hit with Please Please Me would have made the difference between to two Carlisle concerts.
"Suddenly they've gone from having a minor hit to being on television and splattered across the papers."
Raining jelly babies
The Beatles, concerned at the growing habit of throwing potentially painful coins on to the stage, had asked fans to stop, ill-advisedly mentioning in the process that they liked jelly babies.
"So jelly babies they got, with a vengeance," Mr Scott-Buccleuch said. "It just rained jelly babies."
One of his jobs was to clear them up - they filled a 2ft (60cm) high box.
A friend, John Wilson, got seats in the front row of the November concert.
His unofficial recording of the concert is a testament to the band's fame rather than their singing, drowned out as it is with the sound of a thousand screaming girls.
"I didn't actually think they were really good," he said. But his girlfriend did. He remembers an "amazing change in her".
"She was saying, 'All these girls screaming, I wonder what they're screaming for'," he said.
Then, mid-concert, she started screaming too.