Hundred-year-old Cumbrian cattle site moves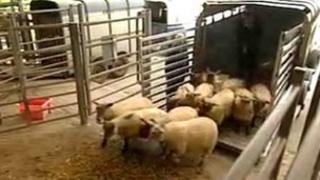 More than 100 years of livestock auctioneering has come to an end at a site in Cumbria.
The final livestock sale at the old Auction Mart on Appleby Road in Kendal took place on Friday.
Millions of sheep, cattle and pigs from the Lake District National Park and Yorkshire Dales have been sold at the four-acre mart since 1904.
Demolition crews will move in soon to clear the site for a housing development of about 90 properties.
"It is much needed for the population of South Cumbria, so it's a win-win situation," said Adam Day, managing director of North West Auctions.
The company will move to a new 13.5-acre site at Moss End Rural Business Park near junction 36 of the M6 motorway, which is capable of handling up to 1,100 cattle or 10,000 sheep.
Mr Day, 48, from Cockermouth, has been the managing director for two years and sees it as a new start.
He said: "The old market has been outgrown by the town and the facilities are no longer fit for purpose.
"Having the site right on the motorway with access both north and south, it also has the best animal welfare conditions for the animals."
The first livestock sale is due to take place at the new site on Tuesday.